DesignCap – Graphic Designer Review
Today, we use internet a lot and share a lot of content. Majority part of this content is images and infographics. Whether you're a Blogger, Marketer, Store Owner, Business Owner, Enterprise, NGO, School/University, etc., you shares images and infographics on your blogs, websites, social media handles.
Now, there a huge problem is of creating these high quality images and infographics. You have to learn image creating and designing in Adobe Photoshop, CorelDraw, Illustrator and other software.
In this article, we will talk about DesignCap – Graphic Designer, it is a web app which helps you a lot in designing high quality images, infographics. You can design graphics of all types and sizes easily without any graphic design skills. You don't need to hire a professional designer which takes a huge charges. You can saves a lot of costs which you have to pay for designing graphics.
Features
When we get to know about any software or service, we want to know what their features are. Here are some features of DesignCap:
Web App
As we know about the Designing Software and other similar systems, we have to download them and they takes a lot of space on our system and other resources. This means we need huge storage and powerful processor systems. While, DesignCap is an online portal which runs online and no need to download and install it. So, you don't need to worry about your system lagging.
Wide Range of Editing and Customization Tools
DesignCap provides a wide range of tools to edit and customize graphics to fulfill your business or personal needs. With these tools, you can adjust font size, insert images, use your company's colors and more, giving you full control over designing, just the way you want them.
User Friendly
DesignCap is an easy to use platform that newbies can also design a graphic professionally in just a few minutes. All you need is some time to become familiar with the platform and you will design professional graphics.
Thousands of templates Available
At DesignCap, thousands of pre-designed templates are available, so that you can design graphics professionally as per your requirements. With these templates, you don't worry to think about the design ideas as these are available under various categories.
Large Library of Stock Photos & Illustrations
While designing graphics, we need to use some illustrations and this is great part of DesignCap. You can find a large library of the illustrations and stock photos which you can use to design your graphics.
DesignCap for Whom?
For those who want to spread their events or activities with attractive & persuasive posters and flyers by distributing them to reach a wide audience.
For professionals, who need impressive posters and flyers for their social media cover or eBook cover.
For students, who want to create interesting graphics for their presentation.
For teachers, who want to make fantasy Courseware for their course.
Pricing
Here are the pricing plans:
Free – $0, limited templates and stcok media, 5 image uploads, save 5 designs
Basic – $4.99 per month, unlimited templates, stock icons, Modules, 100 image uploads, save 100 designs
Plus – $5.99 per month, unlimited templates, stock icons, Modules, 1000 image uploads, save 1000 designs
Technical Details
Devices Supported – Web Based
Deployment – Cloud
Language Support – English
Customer Types – Small, Medium, Large Business, Freelancers, NGOs, Indivisual
What you will get in DesignCap?

Sign Up on DesignCap
Create an account and choose the type of your organization. I'm choosing Self-Employed.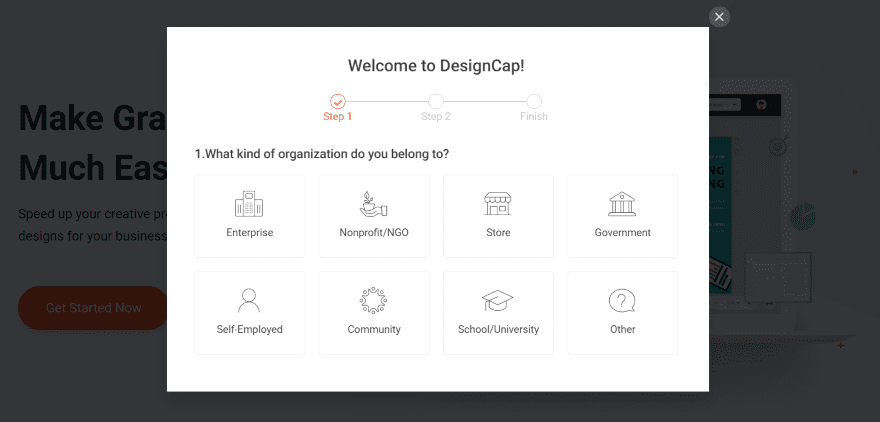 Choose your role. I'm choosing Blogger/Writer. I think this helps them understand what features are the most important to their users.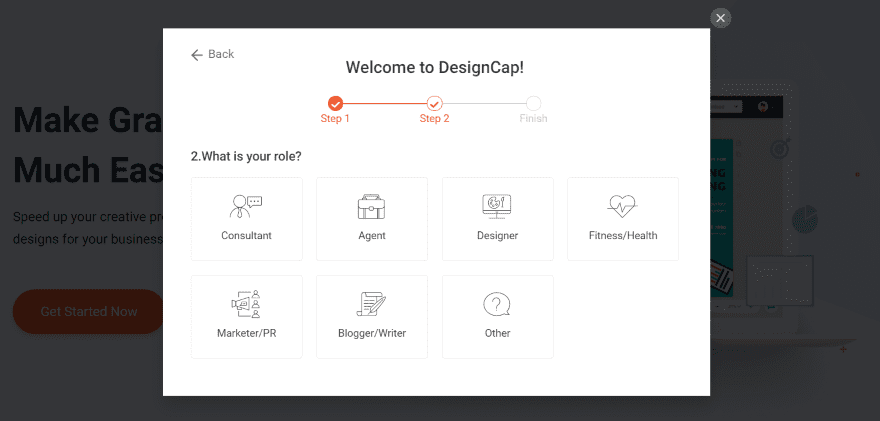 Confirm your account. Clicking the button takes you to your website, but you'll actually just need to check your email to confirm your account. You can upgrade at any time.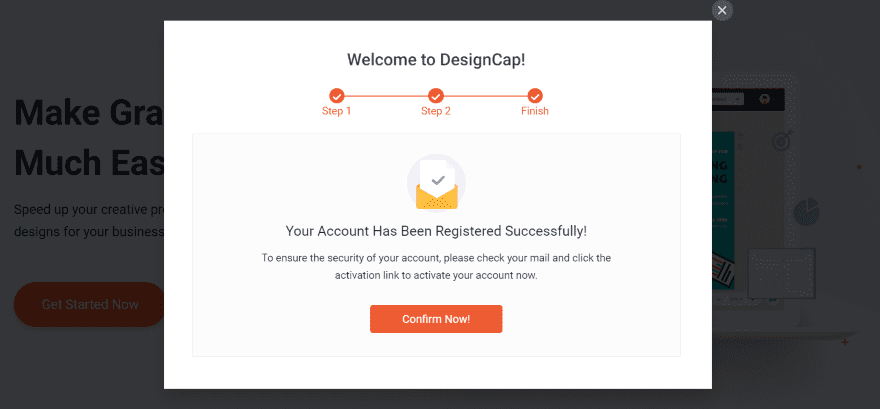 Editor
For the first time, finding the editor can be a littke bit confusing because it isn't in the menu, also logging-in doesn't automatically take you to it.
Click on your account icon opens a dropdown menu with a link called My Designs. This takes you to the design editor.
Here, you can see your current designs and create a new design.
I clicked on Get Started and templates are opened.
At the top, you will see the most popular templates with a button to select a specific size or enter a custom size. Under this is a list of templates under the categories of marketing, social media header, social media post, and event.
Click on any of the templates, you'll see the editor.
At the top, you'll see the link back to templates, undo and redo buttons, and buttons to save, download, and share.
On the left, you will see the buttons to show the templates, elements, photos, chart, uploads, text, modules, and background options for the type of project you selected.
Clicking on them, shows the options to the right of that menu. You can see in the image below, which shows templates for the current project.
At DesignCap, you will get a lot of templates to get started. You can search templates and filter them by categories. Templates include marketing and social media. Create posters, flyers, logos, business cards, menus, infographics, invitations, Facebook covers and ads, YouTube Channel graphics, Instagram covers, Pinterest, Twitter, email headers, and lots more. DesignCap has over 2 Millions+ illustrations that you can modify.
The project itself is placed within the largest area with a canvas to create your project. To the right of the canvas are buttons to add a page, copy a page, move up or down (by pages), and delete the page.
At below of the canvas, here is the size of the project, a zoom feature, and a button for help.
In the Elements, you'll find Shape and Icons.
Shape includes drawing tools like lines, solid and outlined shapes, and outlined solid shapes. Clicking on All opens that set to show more options.
When you Click a shape, it will be added to the workspace and also adds a color picker, flip and rotation tools, opacity, and border. You can align it to the page, add layers, duplicate it, and delete it. The image also dragging and rotation tools.
Photos are labeled according to a topic. You can select a topic to see the photos or search for something specific. DesignCap has over a million of high resolution stock photos for your projects.
Uploads provides a tool where you can upload your own JPG and PNG files to use in your projects.
It does limit the upload space to 1000 files and I'm sure you can live with that.
Text tab provides lots of layouts and fonts to choose from. You can add your own heading, subheading, and body text. You can group and ungroup the text for styling.
You can get a lot of features to design a eye catching graphic for your marketing need.
All of the tools make sense and are easy to use. I was truly surprised, how easy it was to change the colors of the templates. I never need to use the tutorials for DesignCap.
It works a lot like Canva. It doesn't have some of the features that Canva has, such as team collaboration or video, but not everyone needs those tools and it's cheaper than Canva.